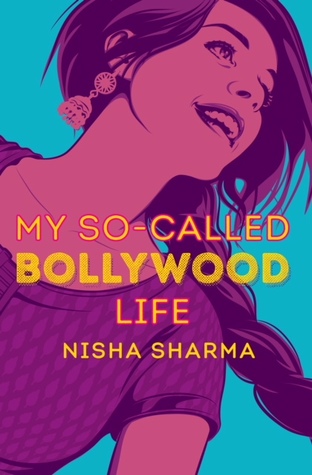 Title: My So-Called Bollywood Life
Author: Nisha Sharma
Publication: May 15th 2018
Synopsis:
Winnie Mehta was never really convinced that Raj was her soulmate, but their love was written in the stars. Literally, a pandit predicted Winnie would find the love of her life before her 18th birthday, and Raj meets all of the qualifications. Which is why Winnie is shocked to return from her summer at film camp to find her boyfriend of three years hooking up with Jenny Dickens. Worse, Raj is crowned chair of the student film festival, a spot Winnie was counting on for her film school applications. As a self-proclaimed Bollywood expert, Winnie knows this is not how her perfect ending is scripted.
Then there's Dev, a fellow film geek, and one of the few people Winnie can count on to help her reclaim control of her story. Dev is smart charming, and challenges Winnie to look beyond her horoscope to find someone she'd pick for herself. But does falling for Dev mean giving up on her prophecy, and her chance to live happily ever after? To get her Bollywood-like life on track, Winnie will need a little bit of help from fate, family, and of course, a Bollywood movie star.
Like an expertly choreographed Bollywood dance scene, Nisha Sharma's off-beat love story dazzles in the lime light.
ORDER YOUR COPY TODAY
AMAZON.CA | AMAZON.COM| INDIGO |BARNES AND NOBLE | GOODREADS
MY RATING: 3.5/5 STARS
I received a copy from Penguin Random House Canada in exchange for a honest review.
Honestly, if you asked me what I really look forward to in Young Adult today it would be diversity. I can't stress this enough. I want to see different cultures in books so I can feel represented and learn more about others. So when I saw My So-Called Bollywood Life came out I knew I had to read it. This isn't my first Indian-American novel that I've read but it's my second and I enjoyed it.
Continue reading "Book Review: My So-Called Bollywood Life" →