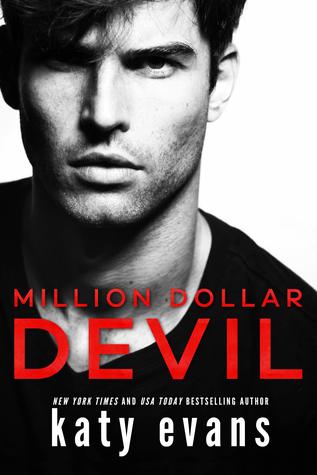 Title: Million Dollar Devil
Author: Katy Evans
Publication: May 28th 2019
Synopsis:
Big-city sophistication meets carnal hunger in this devilish contemporary romance from New York Times and USA Todaybestselling author Katy Evans.
Heir apparent to her father's company, Lizzy Banks needs a man. The perfect man. But when the rich "fundbabies" she usually rubs shoulders with prove impossible to hire, she takes a chance on a raw beast of a man salvaged from the wreckage of a bar brawl.
James Rowan earns a modest income as a YouTube daredevil, but he can't refuse Lizzy's million dollar deal. As she polishes his rough edges, creating a sophisticated gentleman fit for the highest circles of society, not only does she bring out the perfect man—it's like she's making the man of her dreams. How can she resist?
Though Lizzy loves seeing James in his clothes—and out of them—he isn't the kind of man you bring home to Daddy. Her father's disapproval and the pressure of the campaign have her eyeing the straight and narrow, but Lizzy's finding it awfully hard to resist the devil on her shoulder…
ORDER YOUR COPY TODAY
AMAZON.CA | AMAZON.COM| GOODREADS
MY RATING: 3/5 Stars
I received a copy from Thomas Allen & Sons in exchange for a honest review.
I'm not sure but I think this is my first Katy Evans novel and while I enjoyed the majority of the book, it's always disappointing when you know it could have been wrapped up faster than the execution. For example, our heroine, Lizzy needs a model fast for her father's billionaire dollar suit business so when she spots the hottest man alive, she goes in for the kill. James, a man who does stupid stunts on Youtube for chump change, doesn't know what he's in for when Lizzy drags him out of a bar fight and into her apartment. They both had too much too drink so they knock out, wake up, and they fight their mutual attraction for each other. But wait. Wasn't I just talking about how Lizzy was going to propose the idea that James should be her model? Yeah, that's what I'm talking about.
Continue reading "Book Review: Million Dollar Devil by Katy Evans" →