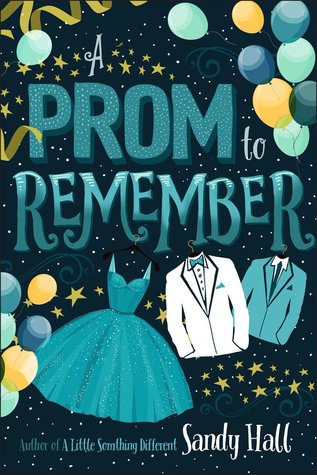 Title: A Prom to Remember
Author: Sandy Hall
Publication: April 24th 2018
Pages: 320
Synopsis:
Seven seniors, seven problems, one senior prom.
Cora: Head of the Prom Committee (and basically every other club in school). Has been dating Perfect Boyfriend Jamie™ for approximately forever, and has NO IDEA how to break up with him….
Paisley: Sarcastic feminist who wants nothing to do with prom. Has somehow managed to nominate her anxiety-ridden best friend for prom king…
Henry: Quiet ballplayer who hates social situations. Invited to prom by the most popular girl in school. SEND HELP!
Otis: Charming, popular, and one half of one of the cutest couples in his class. Doesn't know how to tell his boyfriend that he's not quite ready for a post-prom hotel room experience…
Lizzie: A little bit shy, and a lot excited to finally get out of her comfort zone and go to prom. With a boy. Whose name she doesn't know.
Cameron: Loner with two jobs and zero friends. Is so done with high school and this whole town: the only thing he still wants to do is meet the mysterious girl who's been leaving him notes…
Jacinta: Unnamed Nerd Girl #3. Determined to become the star of her own life, starting with prom. Now if only she could find a date….
A Prom to Remember, the newest book from Sandy Hall (author of A Little Something Different) is a funny and cinematic look at the biggest dance of every high schooler's life.
PRE-ORDER YOUR COPY TODAY
AMAZON.CA | AMAZON.COM| INDIGO | BARNES & NOBLE | GOODREADS
MY RATING: 3/5 STARS
I received an ARC from Raincoast Books in exchange for an honest review.
I simply adore Sandy Hall's covers. Her books are always gorgeous no matter what type of story she's writing or the genre. Although I have a copy of her debut novel, A Little Something Different, I haven't actually had the courage to pick it up. It's not intimidating by the sheer size of it because it's quite thing but I think I'm more intimidated by the development in the story and how it's written. This is my second attempt at reading a book by Sandy Hall and I've seen a trend happening. Sandy really likes from writing books from multiple character point of views.
Continue reading "Book Review: A Prom to Remember by Sandy Hall" →