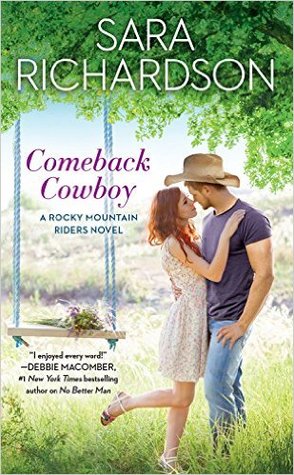 Title: Comeback Cowboy
Author: Sara Richardson
Publication: June 27th 2017
Pages: 368
Synopsis:
"Filled with humor, heart, and love, this page-turner is one wild ride."
— Jennifer Ryan, New York Times bestselling author on Hometown Cowboy
A WOMAN NEVER FORGETS HER FIRST COWBOY . . .
As a single mother, Naomi Sullivan is used to doing things on her own. She's finally saved enough from working at the Cortez Ranch to buy a lovely home for her and her little girl. Life is going as planned. But when her high school sweetheart comes riding back to town, this self-sufficient woman feels something she hasn't felt in years: red-hot, unbridled need for the handsome cowboy who left her behind.
Lucas Cortez doesn't plan on being in town long. Yet when he sees Naomi again-the gorgeous girl he never stopped loving-he's tempted to hang up his hat and stay awhile. He's already charmed his way into her daughter's heart, but he'll need more than sweet talk and roses to convince Naomi to give them a second chance-especially when she's hiding a secret that could change their lives forever . . .
MY RATING: 3/5 STARS
I received an advanced reader copy in exchange for a honest review.
Comeback Cowboy follows the troupe of second chance romance with Naomi Sullivan and Lucas Cortez. Highschool sweethearts, Naomi and Lucas were supposed to live their own versions of happily ever after until a tragedy happens. Lucas is sent to jail for arson at a young age and Naomi, nursing a broken heart marries another man, only to find herself pregnant. Ten years later, Naomi still isn't sure who the father of her daughter, Gracie is.