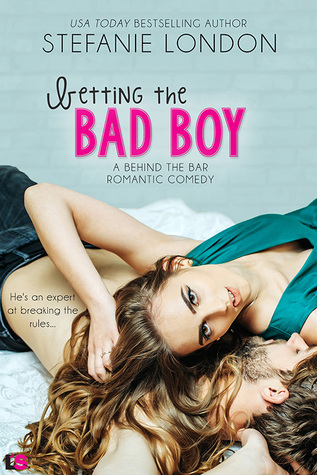 Title: Betting the Bad Boy
Author: Stefanie London
Publication: May 23rd 2017
Pages: 218 pages
Synopsis:
Self-confessed perfectionist Paige Thomas isn't used to failing. But when a critical error in romantic judgment sends all her big city career dreams crashing down, she scrambles to find a job—any job—to make ends meet.
Noah Reid may as well have "trust issues" tattooed on his forehead. Being raised in the foster system didn't give him a positive outlook on relationships, but now he's looking after his best friend's bar for one month, and he can't do it alone.
Things get steamy when Noah hires Paige, but she's determined not to repeat her mistakes and she bets Noah that she can keep her hands to herself while they're working together. Too bad for her, Noah is an expert at breaking the rules…
Each book in the Behind the Bar series is a standalone, full-length story that can be enjoyed out of order.
Series Order:
Book #1 The Rules According to Gracie
Book #2 Pretend it's Love
Book #3 Betting the Bad Boy
MY RATING: 3/5 STARS
I want to start off this review with the fact that I follow Stefanie London on instagram and I had the opportunity to chat with her a bit occasionally over a few things she posts on there. She's sweet and down to earth so if you want to give her a follow definitely check her out here
However, I want to be really honest in my book reviews and not be bias in any way. Betting on the Bad Boy made me feel very conflicted. There were a lot of parts that could have been improved in a way and there were parts that hit the mark for me, personally.
To start, I want to talk about the plot itself. It pains me to say but I found it very difficult to even decipher if there was a plot. It was kind of just Paige and Noah being together, openly flirting, and what not. This was also strange to me because their relationship started with Paige pretending to be someone she was not and Noah giving her the benefit of the doubt. It would have been interesting if Paige kept lying, covering her true identity and having to reveal who she really was to Noah later on but instead of taking this twist, Paige openly admitted she wasn't who she was by page four. I mean, why bother to lie in the first place then? I was so confused about this.
Now let's talk about character motives. Noah is a foster child. He's troubled is what he claims himself to be and because of this, he knows he can't have a happily ever after or more likely, he's scared of everything falling into place because he believes he doesn't deserve it. Noah's background, and motives was way more realistic, and interesting than Paige's. It made me ache, knowing he was turning Paige away because of this reason.
Moving on to Paige…I was just rolling my eyes a lot. Paige's motive for not having casual sex didn't make sense to me. She claims she doesn't have casual sex because her brother lost his entire life he built up due to an unwarranted pregnancy from a one-night stand. Which is…I mean I guess moment. I mean, it sucks that her brother had to turn down big job offers from big cities but can you really hold back on your life because of what happened to others? I mean mistakes happen but not always all the time. I felt she was too afraid of what might happen. Furthermore, she also didn't want casual sex because the first person she ever had sex with ended up dumping her right after. This was a far better reason why she might not want to have sex. All the hurt and frustration would be a better motive for Paige.
The big confessional moment irked me a lot too. Paige putting thoughts and words in Noah's mouth was frustrating to me. Instead of letting Noah develop those feelings on his on, it seemed like Paige was jumping to conclusions onto what happened between them. I was left confused because there was no build up to it. It almost seemed like Paige was so desperate, she started making things up. Let Noah have some inner thoughts, and angst first and then have Paige set him straight.
Despite my review, I enjoyed this book because it was a quick and fun read. Noah's past was so raw and real, moving me to almost tears sometimes.
My recommendation
I'm definitely going to read other Stefanie London books.