Title: The Wrong Kind of Compatible
Author: Kadie Scott
Publication: June 12th 2017
Pages: 138 pages
Synopsis:
Data analyst Cassie Howard may be brilliant (and, okay, a little awkward), but she's worked hard to get where she is. She definitely doesn't need some sexy new analyst coming in and taking credit for her work. Or the inappropriate thoughts that keep popping out of her mouth she'd rather he not hear.
For undercover FBI agent Drew Kerrigan, computers have always made more sense than people, but he'd better develop some slick social skills in a hurry if he's going to win over the too-tantalizing-for-his-sanity Cassie. Hacking their systems was easy. Now he's just got to hack the one person in the company most likely to see through his ruse…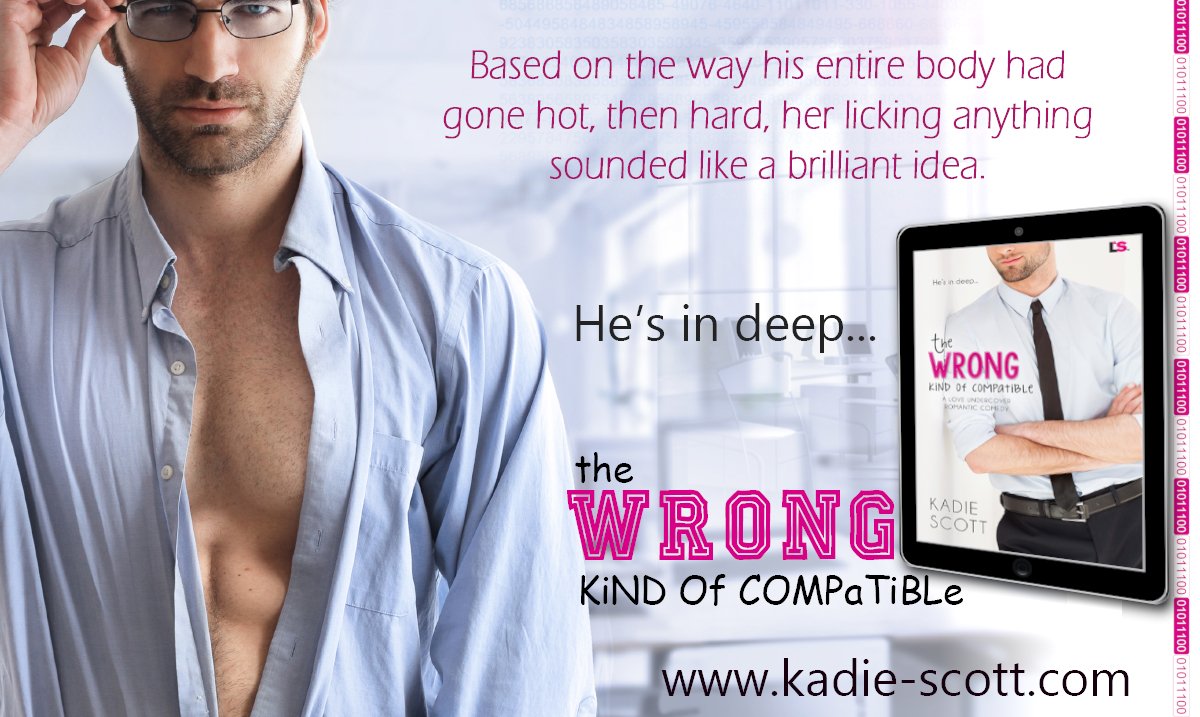 MY RATING: 5/5 STARS!
I knew this was a good read from page one. It was whip smart funny and adorable, filled with lovable characters that aren't afraid to be quirky.
Drew and Cassie are basically the same person. Both are socially awkward and both love computers, coding, hacking, and building programs from scratch. Their idea of foreplay? Fighting about how to code the next line or which direction their latest computer program should take. Also, computer tech sexual innuendos. I loved it all and it made me smirk because of how clever it was written.
Let's talk about Cassie. She's smart in her own fields and excels but it doesn't stop her from feeling inadequate when compared to her four brothers who are either a brain surgeon, heart surgeon, physicist or whatever. She's the outside with no Phd to her name and while it doesn't bother her, her mother is bothered by it.
This is another reason why I thoroughly enjoyed this book. Cassie's mother was judgmental, making it hard for her to connect deeply with her daughter. Like her sons, Cassie's mother wanted Cassie to get her Phd and is clearly disappointed that she didn't fall into the doctorate degree path. Because of this, Cassie suffers self-esteem issues, not realizing how brilliant she is, and how well accomplished she is despite her ground breaking successes in the tech industry. I was literally begging for Kadie Scott to remedy this relationship and let me give you some inside information….she does a great job at it.
Now let's talk about Drew. He's a hot nerd and I love hot nerds. Kadie did a wonderful job at creating Drew because we saw how he developed into a charming fellow he was by the end of the book. Instead of staring at Cassie without saying a word, Drew learned to fight past his social awkwardness and creating conversations with the opposite sex. Drew is also so sweet. He takes the benefit of the doubt no matter what which is a wonderful aspect to have in a character.
As for the story, it advanced well. It wasn't rushed so you don't have to worry about whether or not the story was too short or whatever. Nice and paced well, Kadie did a great job.
FINALLY. Moving onto how this is actually part of a series and there are no news for the next novel yet BUT BUT BUT PLEASE OH PLEASE I HOPE KADIE WRITES A STORY ABOUT MAX!!!1 AKA DREW'S BEST BUD FROM THE FBI
MY RECOMMENDATION
PICK IT UP!!!!!!