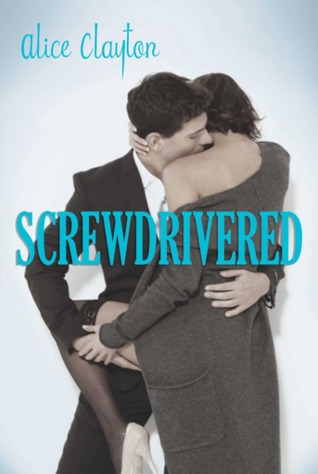 Title: Screwdrivered
Author: Alice Clayton
Publication: September 2nd 2014
Pages: 256 pages
Synopsis:
Readers back for a third round of the bestselling Cocktail series will enjoy a madcap romantic comedy about bodice ripping and chest heaving, fiery passion and love everlasting. Plus a dash of paperwork filing and horseshi—wait, what?
By day, Viv Franklin designs software programs. By night, Vivian's a secret romance-novel junkie who longs for a knight in shining armor, or a cowboy on a wild stallion, or a strapping firefighter to sweep her off her feet. And she gets to wear the bodice—don't forget the bodice.
When a phone call brings news that she's inherited a beautiful old home in Mendocino, California from a long-forgotten aunt, she moves her entire life across the country to embark on what she sees as a great, romance-novel-worthy adventure. But romance novels always have a twist, don't they?
There's a cowboy, one that ignites her loins. Because Cowboy Hank is totally loin-ignition worthy. But there's also a librarian, Clark Barrow. And he calls her Vivian. Can tweed jackets and elbow patches compete with chaps and spurs? You bet your sweet cow pie.
In Screwdrivered, Alice Clayton pits Superman against Clark in a hilarious and hot battle that delights a swooning Viv/Vivian.
Also within this book, an answer to the question of the ages: Why ride a cowboy when you can ride a librarian?
MY RATING: 3/5
I want to start off this review by stating that I once tried my best to read Screwdrivered but had to put it down simply because I didn't like what direction it was headed. We had Vivian, who was obsessed with romance novels, and a smart ass attitude that came off as trying TOO hard.
But, wait. You're probably thinking that I should relate to Vivian a lot since we're basically the same person. Yes, reader. You're right but have you considered that when two people fight for the spotlight, one will get burnt? However, I am pleased to shock you readers by letting you know I got over my BIG EGO and read this book simply because it's about time I read a Alice Clayton novel.
Let's start with our heroine. Vivian wants the angsty romance readers crave and that comes in the sign of a cowboy that take cares of the animals on the estate she inherited after her great aunt passed away. She's smart and can figure out mathematical equations, understanding complex theories but when it comes to signs of love and figuring out what's best for her; she's the slowest in the class. Vivian can be very frustrating sometimes because readers can clearly tell from page two who she is destined with but she can't seem to see it. And it annoyed me quite a bit because it was so obvious to her as well. She just didn't want to believe it.
Moving onto our hero, Clark. God bless, Clark. I love myself a nerdy boy who secretly knows his way around the bedroom and knows his way to a woman's heart. Can we just gush about how caring and sweet this boy is? Because I still can't get over their hushed conversations and how shockingly different it was from the raunchy sex calls Vivian probably craved. Like Vivian, Clark annoyed me sometimes too. He was so hot and cold. One minute, you would think he would stand up for himself and fight for the woman he likes but then suddenly, he backs down, and becomes this cold insecure character. Like can you not? Please. If you seriously are blaming Vivian all the time, maybe you should grow a bigger set of you know what and declare your love.
The thing about this story is that it was soooooooooooooooooooo slow burn. Like sooooooooooooooooooooooooo sloooooooooooow burn. It was mostly friendship and while it was nice, it got boring. Because really. The synopsis of this novel basically told you that Clark and Vivian are going to be your next power couple so i'm just sitting there, reading two hundred pages of shit where they're too chicken shit to actually kiss. Can we speed this up a bit? I think this was the deciding factor that knocked it down two stars. In addition, everything collided spectacularly towards the end. Like everything. Alice clayton seemed like she was just packing everything she should have done spread out gracefully throughout the book towards the last ten pages.
My recommendation
Pick this up when you want a slow read about enemies turning into friends turning into lovers romance.