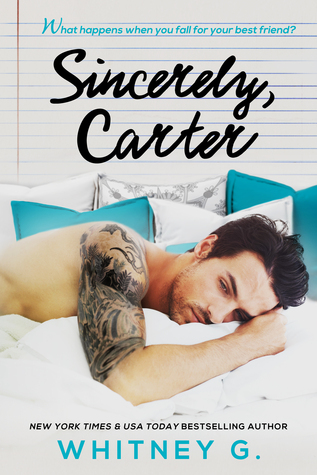 Title: Sincerely, Carter
Author: Whitney Garcia Williams
Publisher: Whitney Garcia Williams
Publication: April 30th 2015
Pages: 237
Synopsis: Just friends.
We're just friends.
No, really. She's just my best friend…
Arizona Turner has been my best friend since fourth grade, even when we "hated" each other. We've been there for one another through first kisses, first "times," and we've been each other's constant when good relationships turned bad. (We even went to colleges that were minutes away from each other…)
Throughout the years, and despite what anyone says, we've never crossed the line.
Never thought about it.
Never wanted to.
Until one night changed everything.
At least, it should've …
Just friends.
We're just friends.
I'm only saying this until I figure out if she's still "just" my best friend…
My thoughts…4/5 stars
This book was a hard 4 stars out of 5 stars to me. It had all the essential elements to a good romance story but I had some issues near the end with the conflict/angst between Carter and Arizona.

Best friends since grade four according to Arizona but grade five according to Carter, Carter and Arizona are attached at the hip. They understand each other. They fit well together. Failed relationships, slimy dates, and the crazy exes all happened to both of them. The common denominator? Each other. Every time a relationship fails for Carter, his ex blames Arizona for being in their lives. Every time a guy mistreats Arizona, Carter is always there picking up the pieces and fixing the problem. It's unbelievable that they didn't realize what they had until it all shot to hell.

One of the main problems I had with this book is that Carter's point of not wanting to be with Arizona was not fully flushed out. In this book, we get two perspectives. I really enjoyed that because it means we can experience both sides and how they deal with the same events. However, Carter never expressed much frustration or pain or yearning. At least not enough to convince me that he made the huge mistake of letting her go or he let her go because he thought it would be best.

And then the way it was wrapped up was borderline random. Arizona shows up with a new boyfriend after going to France for culinary school. During the party, Carter declares his love for her in front of everyone including the boyfriend. What happens to the boyfriend when Arizona accepts Carter? He walks away and is never seen again. Okay. I expected a bigger fight, bud. You were crying just a few minutes ago about how angry you are because someone is stealing your girl and now you just walk away? That's weak.

My suggestion? Read it if you're looking for something flirty and nurturing. It goes back to their friendship in flashbacks so it's interesting if you want that slow burn childhood romance.