Didn't expect to hear back from me so soon after my last post about how I can't seem to quite finish a book huh? Well, much to my excitement, I realized I only needed to take a break from Me Before You by Jojo Moyes and then I could push right through to the end of the book.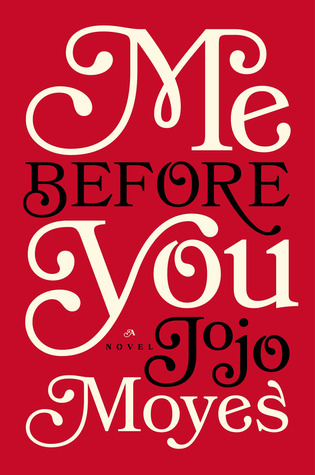 Title: Me Before You
Author: Jojo Moyes
Publication: December 31st 2012 
Pages: 369
Synopsis: Lou Clark knows lots of things. She knows how many footsteps there are between the bus stop and home. She knows she likes working in The Buttered Bun tea shop and she knows she might not love her boyfriend Patrick.
What Lou doesn't know is she's about to lose her job or that knowing what's coming is what keeps her sane.
Will Traynor knows his motorcycle accident took away his desire to live. He knows everything feels very small and rather joyless now and he knows exactly how he's going to put a stop to that.
What Will doesn't know is that Lou is about to burst into his world in a riot of colour. And neither of them knows they're going to change the other for all time
Personal Rating: 4.5/5
My Preconceived Opinions of This Book
A friend of mine on Goodreads actually recommended me this book a few months ago. After reading the synopsis above, my first thoughts were "okay, sounds weird but ok." The synopsis doesn't tell you much about the story at all. And if you're the type of reader that is okay with a synopsis not telling you what you can expect from the book, then it might be good for you but for me, personally, I needed more convincing. I needed to know the details behind it so I can get intrigued and convince myself that it's worth the time to actually read this book. Because after reading the synopsis, I was meh about it.
A deeper synopsis…
Will Traynor is a quadriplegic after a unfortunate motorcycle accident. He was a traveler, an adventure seeker, and a brilliant businessman that seemed like he had the world in his hand. But after his accident, he was left confined in a wheelchair and caretaker named Lou Clark who desperately needs the income to support her family. Lou and Will were complete opposites. Lou liked her clothes bright, odd, and unique while Will liked his fashionable clothes that showed off his handsome physique. Both parties would have never been caught seen together if it weren't for Will's accident. Through a series of events, Lou and Will grow closer together, forming a deep friendship only time could build.  But will it ever be enough for Will and Lou or will they accept fate as it is?
What I liked about the book
I've been in the weirdest reading funk ever. If you refer to my last post, I couldn't bring myself to get lost in any book. However, I was captivated by the very first page of this one. Reading this book felt like I was returning home to my comfortable cozy flat, a warm cup of tea in hand, and a throw over my body. It was like inviting an old friend to visit and to catch up to. Everything about this book was beautiful. The events that happened shaped the characters, nurtured them, and grew them into stronger versions of themselves till the very end. It felt like life was unfolding for these characters as I kept flipping the page.
I liked how it felt real. How they friendship was always on the balance between Lou figuring things out between her boyfriend Patrick and her developing feelings for Will. Or how Will was always at a constant battle between having Lou in his life or baring the thoughts of continuing his journey without her.
I liked how this book focused on the debate of choosing to live or choosing to die. Would I choose to live if I was in Will's position? Constantly bedridden with infections and illnesses because my body is slowly shutting down or will I choose to fight on at a chance of a better life in the future. Will I give myself the choice of choosing my own fate or let fate do it? It's all very debatable and I liked it a lot because I was constantly fighting with myself. My thoughts would always be circling around my head. " Yes, I would decided assisted suicide would be my route. But then again, I might miss my family too much. How about the pain I'm going through? No, it's worth it. No, wait. It's not. "
What I didn't like about the book…
There wasn't much I disliked about the book. It's a solid novel with solid characters. The only thing I would warn readers about is this book will make you feel empty. At the very end, you're just going to feel like the battle is over. You're done for the night. Pack up and just go home.  It's an empty sadness.
I wished there was more between Will and Lou. I wished there was more from Will and how he's fighting his feelings for her or how he's fighting with himself on what to do with his life. I would have really appreciated seeing a sense of vulnerability in him where he reconsiders his plan all along. Maybe him reconsidering his options would have left a bigger impact on me in the end.
I did expect to cry a lot at the end of this book but I didn't. I was just empty. I'm still empty. But it's a good empty.
Should You Read This Book?
Honestly, read this book if you're going through the motions of your life and you're in that weird state of not knowing what's really going on. I'm sure many of you guys feel this way. This book is a comfort book. It's so close to a real life that you would feel like you're Lou by the end. It's almost the same feeling I get when I read The Time Traveler's Wife. It's just great writing that really captures the essence of life.