Guys I'm so super pumped to announce that I preordered two new books from my two favourite young adult authors!!
There's no cover for this book yet but after the author announced it, I automatically grabbed my laptop and preordered the book off Amazon!!
The first book I bought was…
Holding Up the Universe By Jennifer Niven
Expected release date: Oct 4th 2016
**Obviously not the cover of the book because there isn't one released yet.
Synopsis of Holding Up the Universe from Goodreads:
Everyone knows Libby Strout. She's the girl who was so heavy she had to be lifted out of her house by a crane. After being homeschooled for years, she's ready to rejoin the human race, aka the junior class of MVB High. She's free, she's strong, and she's going to get through this—or so she lies to herself. (Okay, fine, she's terrified out of her skull.)
Everyone knows Jack Masselin, too. He may not be the most popular guy in school, but he's got swagger. What no one knows is that Jack has a secret: his brain is different, or maybe a little broken, and he can't recognize faces. Even his own brothers are strangers to him. But he's made it this far, and he just has to keep it up: Be charming. Be hilarious. Don't get too close to anyone.
Until he meets Libby. When the two get tangled up in a cruel high school game—which lands them in group counseling and community service—Libby and Jack are both pissed . . . and then surprised. Because the more time they spend together, the less alone they feel. Because sometimes when you meet someone, it changes the world, theirs and yours.
IT SOUNDS PRETTY GOOD TO ME FOLKS!
If you don't know who Jennifer Niven is then you're definitely forgetting Goodreads Best Young Adult book of 2015: All the Bright Places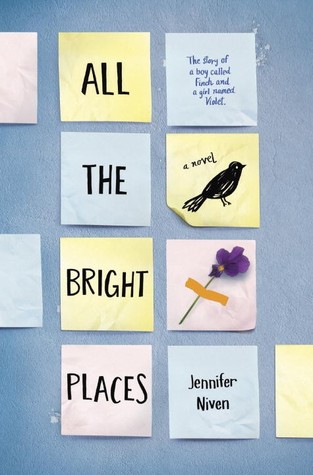 I JUST WANT EVERYONE TO KNOW THAT THIS WAS ONE OF MY FAVOURITE READS OF 2015 AND I WILL PASSIONATELY HUG ANYONE WHO LOVED IT AS MUCH AS I DID. I AM SUPER PUMPED FOR JENNIFER AND I THINK SHE'S SO LOVELY OH SO LOVELY !!
IT'S SO LOVELY TO BE LOVELY TO THE ONE YOU LOVE 🙂
And the second book I preordered…
The Unexpected Everything by Morgan Matson
Expected release date: May 3rd 2016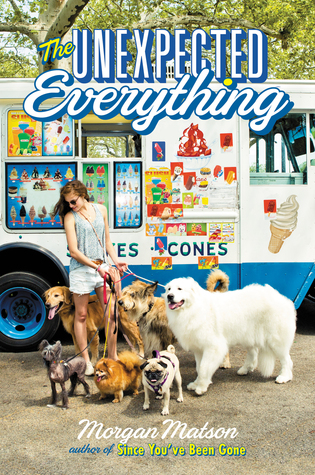 IT LOOKS SO PRETTY OH SO PRETTY OH GOODNESS
Synopsis from Goodreads: 
Andie had it all planned out.
When you are a politician's daughter who's pretty much raised yourself, you learn everything can be planned or spun, or both. Especially your future.
Important internship? Check.
Amazing friends? Check.
Guys? Check (as long as we're talking no more than three weeks)
But that was before the scandal. Before having to be in the same house with her dad. Before walking an insane number of dogs. That was before Clark and those few months that might change her whole life.
Because here's the thing – if everything's planned out, you can never find the unexpected.
And where's the fun in that?
I read all of Morgan Matson's books and Second Chance Summer almost broke me with how freaking emotional it was. I'm a sucker for books relating to family issues and love like that so I'm super excited for this one coming in the mail!!
So that's it folks! I spent about $44 bucks on Amazon for these two books because a) I live in Canada so it's more expensive than american prices. However, I had a $25 gift card so I only paid around $19 give or take!!! Super cool!! Books!! Wow!!
What books did you auto buy recently or what books are you most excited for? Comment down below to let me know!!
Check me out on instagram & goodreads